We are always in need of volunteers - whether it is heading up an activity for the school or just an hour or two you can spare to help our school reach its greatest potential. It takes everyone working together and everyone looking out for others around us to make Timberlin Creek the best Elementary school in Florida. We thank you for all you do to help the effort and look forward to seeing you and new smiling faces around our school making a difference!!
**To be a volunteer at your school, please make sure you are on the approved list of volunteers!!** Click Here to be approved!
VOLUNTEER OPPORTUNITIES: click the link below of the one you would like to help with!
Find a Volunteer Opportunity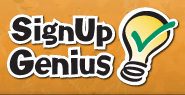 Use the Find A Sign-Up and enter the email address: tceptovolunteers@gmail.com. Most volunteer opportunities are posted on this site.
Contact Our Volunteer Coordinator
Meg Lowe is our PTO Volunteer Coordinator. Please click the keyboard above to email her.
Let Us Know You Want to Get Involved!!
Let us know you would like to get involved!! Click on the image above and fill out the contact form letting us know your availablity and/or any questions you have concerning PTO at Timberlin Creek.