We are always in need of volunteers - whether it is heading up an activity for the school or just an hour or two you can spare to help our school reach its greatest potential. It takes everyone working together and everyone looking out for others around us to make Timberlin Creek the best Elementary school in Florida. We thank you for all you do to help the effort and look forward to seeing you and new smiling faces around our school making a difference!!
**To be a volunteer at your school, please make sure you are on the approved list of volunteers!!** Click Here to be approved!
VOLUNTEER OPPORTUNITIES: click the link below of the one you would like to help with!
​
​
​
Find a Volunteer Opportunity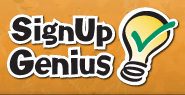 Use the Find A Sign-Up and enter the email address: tceptovolunteers@gmail.com. Most volunteer opportunities are posted on this site.
Contact Our Volunteer Coordinator
Charlotte Werner is our PTO Volunteer Coordinator. Please click the keyboard above to email her.
Let Us Know You Want to Get Involved!!
Let us know you would like to get involved!! Click on the image above and fill out the contact form letting us know your availablity and/or any questions you have concerning PTO at Timberlin Creek.
We sincerely hope you had an amazing time for those that have attended any event at TCES. This year broke all previous attendance records and we were absolutely THRILLED to bring this totally awesome event back. We want you to know that the feedback back has touched our hearts and we have appreciated every single email, voicemail, comment and text. The team is already brainstorming ideas for next year!
One aspect of the events that's worth highlighting here is our amazing team of volunteers. I wanted to share an email we received from one of the moms that attended.
"I just wanted to send a BIG "THANK YOU!!" out to you and all the volunteers who spent their time and efforts to make sure all of us moms and our boys had such a special time on Saturday. Everything was spectacular! The decorations, the games, the music, the food, the treats and all the prizes all made it feel like a very special night. Seeing older siblings volunteering and helping out with a great attitude made us very proud to be part of the Eagle family. Please send out our sincere gratitude to all of the staff, parents and other volunteers who made it such a wonderful experience. We can't thank you enough."
None of the PTO events we do at TCE could happen without our amazing volunteers. We are so, so thankful for you and we honestly need MORE! Also, keep in mind that as the school continues to grow and as we work hard to come back from the struggles over the last 2 years, we have viewed this year as a time to build back the PTO. We have many vacant positions on the board. Currently we have a small group working together planning every single event. We truly don't want to cut any of the amazing events next year. If you would like to get more involved, please reach out. Our email address is timberlincreekpto@gmail.com.